Short-term Effects of GM Foods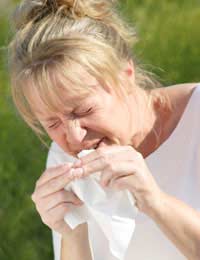 There are many concerns about genetically modified (GM) foods, particularly short-term effects to human health. Key issues involve whether or not a GM food can provoke an allergic reaction in humans as well as how these foods can influence nutritional health. The impact of GM foods on neighbouring fields is another more immediate short-term concern.
Allergenicity Of GM Foods
Allergenicity of GM foods is a very real, short-term effect. For the most part, transferring genes from a commonly known allergenic food is not encouraged worldwide but there are still unintended allergic consequences that can occur from the technology.
Whenever you are adding a new gene, you affect the entire functioning of the organism. A food can become more allergenic or if the new gene comes from a food that a person is allergic to, he or she may react badly when consuming the new food that is assumed safe. There are, however, laboratory tests to assess the potential for allergenicity, which does help to reduce the likelihood of a food causing an allergic result in humans. In one example, a food was developed as feed for animals but when it was discovered that it could cause allergies in humans, it was pulled from the market as a precaution – even though it was never meant for human consumption in the first place.
Compromised Nutrition from GM Foods
While GM foods are actually engineered in some instances to have higher levels of a particular micro nutrient – for addressing malnutrition and poverty – on the flip side, there are suggestions that GM foods can prompt deficiencies.
One feeding study on rats that occurred over a three-month period found that rats fed with GM corn had reduced weights. However, critics of the study argued that the weights were still within the normal range and that the study was not adequately designed, analysed and reported.
GM Foods And Non-GM Crops
One issue that has been widely publicised involves the mixing of GM seeds with fields on organic farms. Organic designation is an extremely strict process and people who purchase organic products do so with confidence and faith in the quality of the food and the knowledge that it is safe.
Unfortunately, GM seeds can be blown by the wind into neighbouring farms where non-GM crops are grown. In fact, one trial that angered people on both sides involved a farmer who claimed to have ended up with GM crops due to the seeds blowing in from a nearby field where GM crops were grown. The manufacturing company took him to court, citing that he had reaped the benefits of GM crops but had not purchased GM seeds. The manufacturing company argued that he had illegally obtained the seeds. Clearly, the short-term effects of GM products are not only health-related ones, but also political and legal ones as well.
There are a number of other short-term effects from the use of GM crops but the key ones are enough to have spurred a great deal of debate and controversy around this technology and whether or not it is safe. While the risks are considered small in terms of negative short-term effects of GM foods, they are still present enough to warrant laboratory testing and thorough evaluation of GM foods before they are approved for marketing, production and consumption.
You might also like...
Shanqueesha, you must be real autistic or something. You are part of the 70%ish people who think GMOs are bad to the people. You are uneducated on the topic, and on top of that, you have the audacity to come to this website and comment your low-leveled thoughts about an important topic. Maybe get a job and an education
LuiG97
- 26-Nov-18 @ 2:14 AM
genetically modified foods are bad because it is a science experiment so you are eating an experiment then why do you think scientists don't say that gm foods are totally safe, because it is not they test the experiment on lab rats because if they try it on people they know in direct contact bad things an happen in some years also gm foods cana cause many diseases in some years such as Alzheimer, and many more
Shanqueesha
- 2-Nov-14 @ 8:21 PM