Environmental Safety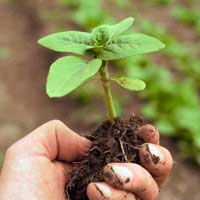 Environmental safety makes up a large part of the controversy around genetically modified (GM) foods. Unfortunately, this aspect of GM foods is one of the most difficult ones to assess, mostly because changes to the environment tend to occur over the long-term rather than as a short-term issue. There are also unexpected consequences and it is a challenge to predict how the environment will respond to a specific GM crop.
Contamination And Threat To The Organics Industry
One of the most frustrating and challenging issues relating to GM foods is that once production in an area begins, containing the seeds, pollen and crops can be a difficult and formidable task. The distressing consequence of contamination is that conventional crops being grown in nearby fields will become contaminated with GM crops. While that is a problem in itself, it is even more difficult for the farmers who grow organic produce, which comes under strict regulations. This aspect of the environment is a challenging one to contain but it must be addressed to safeguard the livelihood of all farmers.
Impact On Biodiversity
When an area has a wide variety of life forms, that area is said to have a high level of biodiversity. All of these organisms contribute to the many interactions in the environment, which can allow for better ecosystem resilience when conditions fluctuate. There is a concern that GM foods may have a negative impact on biodiversity because it could reduce the number of organisms in the ecosystem as well as reducing their interactions.
At present, there is a minimal amount of evidence to indicate that GM crops could hurt biodiversity. When Monarch butterflies consume leaves that are covered in pollen from GM corn, they experience a slowed growth. In addition, they were found to be more likely to die. In a different study that looked at pink bollworm, it was found that when they fed on GM cotton, similar results to the Monarch butterfly study occurred.
However, when follow-up experiments were performed on the Monarch butterflies, researchers found that biodiversity was not significantly affected, which suggests that we need more evidence to form any kind of conclusion.
In another study, aphids that consumed GM potatoes were found to have a harmful effect on ladybirds that fed on the aphids. The interpretations and validity of these studies have been questioned and it can be difficult to find research that is done impartially. However, to prevent harm to the organisms in the environment, research must be properly performed to determine the impact of GM foods.
Future Of The Environment And GM Foods
At present, there are still many groups comprised of farmers and other industry professionals who are adamantly against the growing and production of GM foods. In particular, farmers who grow organic crops tend to see GM foods as a threat to their farms and their livelihood.
The future for some of these farmers seems bleak from a financial perspective because any contamination will jeopardise their ability to provide for themselves, their families and the local economy. It is hoped that more studies are performed to understand the true impact of GM foods on the environment, which can allow for appropriate steps to reduce any problems.
You might also like...