Farmers and GM Food Issues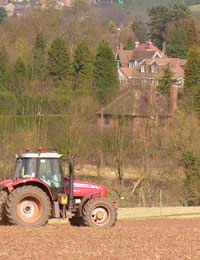 The debate around growing genetically modified (GM) foods encompasses many different areas of science, members of the public and experts in the field.
However, GM foods directly impact the very people who grow the products – farmers. In fact, farmers can often be forgotten in all of the controversy surrounding GM crops, yet they play such an enormous and important role in bringing food to our table, whether those crops are GM ones or conventional foods.
The Issue of Choice
One of the biggest issues with GM foods is the ability of a farmer to choose whether he or she wants to grow GM crops and plants. Those who choose to obtain organic designation or simply have no interest in growing GM crops may, in one sense, be forced to do so because of GM seeds being blown into their fields. In this way, a farmer can feel quite helpless and may ultimately feel forced to compromise their crops and end product because of GM seeds entering their farm from neighbouring fields where GM crops are grown. For those who have organic designation on their crops, this is a particularly devastating issue because it can mean a loss of this designation and a resulting loss of income for the farmers.
Cost of Growing Food from GM Seeds
GM seeds vary a great deal in price but they are typically 30 to 40 percent more expensive than seeds for conventional crops. The marketing premise is that the benefits of GM seeds will ultimately mean that the crops pay for themselves and the farmers will make more money in the long run.
However, the initial cost can still be a challenge for smaller farms who do want to grow GM products. Some farmers cite corporate greed as a reason for what they consider to be excessive costs of GM seeds versus conventional ones.
Lack of Acceptance
Another issue relating to farmers is that there can be challenges with regards to exporting GM products, mostly to countries where GM crops are not favoured or there is an outright mistrust of these food products. Farmers who have invested in GM crops but have been unable to find a market for these crops are sometimes 'rescued' to some extent through government subsidies. Unfortunately, such subsidies still cost the overall economy of the nation and affect every tax-paying citizen in the country.
Restructuring Farms to Accommodate GM Crops
While the list of purported benefits of growing GM foods can seem quite appealing, a person must still keep in mind that a conventional farm will be structured differently to one that grows GM crops. To accommodate GM crops, labour may be reduced, which has the positive effect of savings to the farm but the negative effect of lost jobs and wages to some of the farmers. The management and similar strategies of growing GM crops are also different than those used for conventional crops, which means that education and knowledge in new growing practices to complement the technology are important to ensuring that GM crops provide maximum benefit to the farmers.
Providing Safety Regulations and Education
For GM technology and the growing of GM crops and plants to be successful, there must be transparency, safety and accountability for all farmers who choose to grow them. Not only that, but those who choose not to grow GM crops should have the right to grow their crops without contamination from GM seeds, which can affect the livelihood and prosperity of these farmers. There are still many issues around GM foods and farmers but hopefully more attention will be given to the negative effects and issues, which can allow all farmers to grow the kinds of crops they choose while reaping the economical benefits.
You might also like...
hello,your artical was informative but i need to know if GMOs have impacted farming around the world, your info would help a lot if it was i was looking for,i'm a grade 7 student and i need to know how GMOs have impacted farming around the world (bad and good) thanks and have a good day
A Person
- 22-Mar-17 @ 3:25 PM
Hi, I just wanted to say that your article was somwhat imformative. Whta I needed from thsi atricle wasnt there. It had little information bout' di farmars kk? Bai
Dr. Cheese lady
- 23-Nov-16 @ 7:53 PM