Growing Practices in North America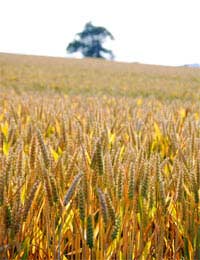 While genetically modified (GM) foods are a controversial topic in virtually any country, their use is enormous in the United States (US), where they have comparatively been far more accepted than in European countries such as the United Kingdom (UK). Canada still has not been subject to the same scope of production for genetically modified foods as the US – a country that generally grows large amounts of GM crops.
Regulating GM Crops
In the US, agricultural biotechnology is regulated by three different agencies. The first is the United States Department of Agriculture's Animal and Plant Health Inspection Services (APHIS). The second is the United States Environmental Protection Agency (EPA) and the third is the Department of Health and Human Services' Food and Drug Administration (FDA).
These agencies focus on the risks and benefits of genetically modified foods. However, you might have wondered what kinds of growing practices have to occur once a GM food is approved for production. Some farms require entire restructuring to accommodate the changes to crops once they use GM crops. Labour may be reduced and less pesticides and herbicides may need to be used. All of these changes have to be organised carefully to ensure that the most benefits of GM crops are reaped for farmers.
Good Farming Practices
Cultivating GM crops requires a number of good farming practices. These differ as well, depending on the type of GM crop. For instance, potatoes will require different management strategies than sugar beet or maize. Farmers also need to take into account the issue of contamination. Indeed, some farmers will grow both GM crops and non-GM varieties, which means that care must be taken to avoid contaminating the fields. For most farmers, the issue of pollen movement will be the dominant one and they will need to be diligent about ensuring contamination does not occur.
There are some guidelines in existence to isolate GM fields from non-GM fields. The idea is to prevent any major contamination of non-GM crops with GM crops. There is also a minimal amount of literature available for good growing practices and scientifically 'safe' distances based on field trials. The storage, transport and processing of GM crops must also be performed properly to ensure success.
Protecting The Environment
Another key aspect of proper growing practices involves protecting the environment. Although all efforts should be made to assess a GM crop's potential to harm the environment prior to its approval, marketing and use on farms, farmers still need to be aware of possible negative consequences and how to identify them should they occur.
There is also increased record-keeping for farmers who grow GM crops. Additional crop monitoring may be needed, depending on the land and the particular crop. While labour costs may be reduced in terms of overall manpower, administrative management can be more time-consuming with GM crops.
Fair And Effective Growing Practices
Good farming and growing practices are important for both GM crops and non-GM crop varieties. In particular though, GM crops need to be carefully grown to ensure they do not contaminate the fields of organic or conventional crops. The goal is to prevent financial losses to other farmers and those growing GM crops. Hopefully, other areas of the world will also focus on using good growing and farming practices, which can help to protect non-GM crops while encouraging success of GM crops.
You might also like...