Reducing Poverty Through GM Food Production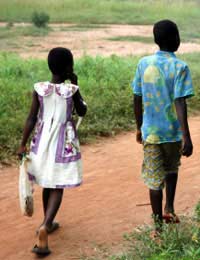 The topic of poverty is one that is saturated with emotion and challenges. On a global scale, poverty affects hundreds of millions of adults and children every single day. The issue of how to reduce or ideally, alleviate poverty is a complex one that has virtually endless factors and opinions. GM foods are one proposed solution to an issue that will likely require a great number of solutions to successfully improve its outcome.
Benefits of GM Foods for Global Poverty
A key benefit cited for the use of GM foods to reduce poverty is that they can significantly improve product yields. The idea is that by improving yields, a greater number of starving people can be fed and will have access to the GM foods. Not only that, but it is thought that these massive yields from GM foods could still be produced more economically than conventional crops with smaller yields, thereby allowing consumers to better afford the foods as well.
However, in some research studies GM crops were actually found to have lower yields than conventional crops, which has triggered controversy over the use of GM foods to reduce poverty. The initial higher cost of many GM seeds must also be taken into account when looking at the economics of the technology and its impact on poverty.
Another perceived benefit is that GM crops can resist pests and difficult weather conditions, which mean that they will still survive despite challenging environmental problems that may be ongoing. In this way, the livelihood of a country can be maintained through the use of GM crops, particularly in countries that tend to experience a drought or other devastating weather conditions on a regular basis.
Yet another benefit of GM food technology is that it is easily transported in the form of seeds for crops and it can also facilitate self-sufficiency in a country. In this sense, a developing nation can become responsible for its own food production but it can do so in an affordable, sustainable way that allows for high crop yields and improved crop resistance to disease, pests and weather challenges.
An additional benefit of GM foods is that this kind of technology can improve the nutritional quality of a single foodstuff. This means that corn, for example, could be engineered to have a vitamin it normally does not possess or alternately, an existing nutrient could be increased.
For populations that tend to survive on only a small number of staple foods, this would allow them to improve their nutrition without the challenges and costs of introducing new foods to the diet. It is seen as a way to prevent and treat malnutrition by working with the current staple foods of a country.
Criticisms Of GM Foods To Reduce Poverty
Despite the many proposed benefits of GM foods, there are also many criticisms and challenges in the use of this technology to reduce poverty. One problem is that critics believe the use of GM foods will actually cause developing nations to become more dependent on wealthier ones for sustenance.
In concept, GM foods could support self-sufficiency because it would mean that local farmers use GM seeds to grow crops and provide them for the local residents of the country. However, the profits from the sales of GM seeds would actually be directed to large corporations in wealthy nations such as the United States. In this sense, developing nations could be sent into even greater poverty over the long-term rather than improved food outcomes.
A further complaint about GM foods is that improving the nutritional quality of a food is a 'Band-Aid' solution to an enormous problem. Critics say that we have more than enough food in our world to feed everyone but the issue is that distribution is clustered in wealthy nations.
Wealthier nations have an excess of food while poor ones are without important, healthy foods for maintaining good nutrition and health. Rather than improve the nutritional quality of a few staple foods, it is thought that a better solution would be to find realistic ways to improve access to a wide range of foods while encouraging farmers to grow different kinds of crops.
Another issue involves the drift of GM seeds to neighbouring fields where conventional crops are grown. Critics cite that the use of GM seeds takes power and control away from local farmers and instead, puts profits into the hands of huge companies such as Monsanto. Other farmers worry about being prosecuted for GM seeds that are blown into their fields that they neither wanted nor purchased.
Addressing A Complex Issue
One thing that likely can be said is that hunger is a very complicated issue and it probably will not be solved by GM foods alone – assuming they do provide some aid to developing countries. To sufficiently address poverty, far more action will be needed than GM food production. However, it is a positive step that people are discussing poverty and searching for ways to reduce this devastating global issue that influences everyone.
You might also like...