How to Avoid GM Foods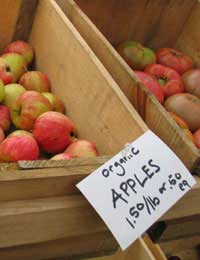 If you have done your reading and learned about genetically modified (GM) foods through a wide range of reputable sources, you might have formed a confident decision about whether or not you want to support GM foods and have them in your diet. For those who want to avoid GM foods in their diet, it can be a great deal more difficult than you might imagine to keep these foods out of your diet.
Labelling varies enormously from one country to another. With so many different regulations and laws around the labelling of GM foods, you might struggle to determine which foods in your diet have GM ingredients. Streamlining your diet to avoid GM foods can be challenging but looking at labels is one way to start.
Choosing Organic
While there is still much debate about whether or not organic foods are 'healthier' and 'safe' in the sense of nutrient content and the safety and risks of pesticides, choosing organic can generally allow you to avoid GM foods in your diet. When a food is designated as organic, it will have passed rigorous assessment and regulations to receive this label.
Unfortunately, however, it should be noted that a current issue in the GM food industry is contamination of crops in nearby fields from GM pollen. This kind of contamination can mean that an organically grown crop is no longer an organic one. Usually though, this issue is one that is identified and the farmer is the one left to contend with the economical losses and liabilities of the problem – not the consumer.
Choosing Wisely
There are three key areas of GM foods – crops, dairy products and animals. There are also food additives derived from GM bacteria and other sources but the three areas above remain the main ones for GM foods. Common GM crops include soy, cotton, canola and corn.
These are ones where you might want to aim for organic, given that organic foods can be more expensive than conventional ones, which means some consumers will not be able to afford buying all organic foods in their diet. You can also check to determine the manufacturer of the product and then investigate those who use GM foods versus those who are committed to conventional ones.
Most dairy and meat products come from animals that consume a diet of GM feed. In this instance, you will typically need to purchase a product that specifically states that the animal has not consumed GM feed or that it is an animal that has only consumed organic feed.
GM Ingredients In Unexpected Places
It is a challenging task to eliminate all GM products from your diet, especially if you live in places such as the United States, where many foods are GM ones. Even foods such as infant formula can contain GM soy or corn derivatives. Unfortunately, these are not always clearly labelled either. Still, some supermarket chains do carry products that state 'GM free.' For Britain in particular, it is easier to find a supermarket that avoids carrying GM products. If you want to avoid GM products and have a GM free diet, checking labels to ensure that a product is free of GM ingredients is helpful.
Living A Life That Is Free From GM Foods
For most people who want to avoid GM foods and keep their diet safe, you can actually assume that every food has some GM ingredient or derivative, unless it is specifically stated that the food is free from GM ingredients or that it is organic.
In some parts of the world, the use of GM foods is so widespread that it can feel like an impossible task to live a life that has a safe diet free of GM foods. For most people who want to avoid GM foods, however, choosing organic is the easiest and best way to avoid GM foods.
You might also like...